StudentCity is committed to providing you with the greatest value during your travels. This has been our mission as the Student Travel industry leader for 30 years. Don't settle for anything less than the best when it comes to your Spring Break, Summer Break, Winter Break or Fall Break trips. Contact us today to ensure you and your friends are getting the best package and the best value possible.
Experience
Expect a seamless travel experience, student-friendly hotels, the most exclusive events, and unparalleled monumental moments that will make for memories to last a lifetime.
Entertainment
StudentCity parties feature world-class talent in our most sought after destinations. Our talent lineup is a crowd-pleaser year after year.
StudentCity Team
You'll be paired with a Travel Specialist and Customer Service Manager to plan your trip from the beginning, and our staff is available 24/7 both in your destination and in our office when you're traveling.
Transparency
All StudentCity terms and conditions are spelled out in depth and easily accessible at all times. There are no hidden fees or unexpected costs involved in a StudentCity trip.
Flexibility
Not only does StudentCity offer personalized payment plans, but should you become unable to go on your trip, we offer a name change option so that someone who isn't already signed up may go on the trip.
Safety
All StudentCity destinations, hotels, and party venues are carefully scouted out, regularly visited by fulltime employees throughout the year, and our destination staff is present throughout all trips.
We have worked with countless sponsors and partners to create digital and physical brand activations, facilitate product giveaways on campuses and in top destinations, host events, and much more. These are some of the current and previous brands that we've worked with:
In business since 1987, StudentCity is the student travel industry leaders for spring, winter, and summer break trips. As the industry leader for 30 years, StudentCity has brought over 400,000 students to top destinations all over the world. StudentCity's tours are preferred by college students because they offer a unique experience plus the convenience of exclusive travel packages for groups of all sizes, from 2 to 200+.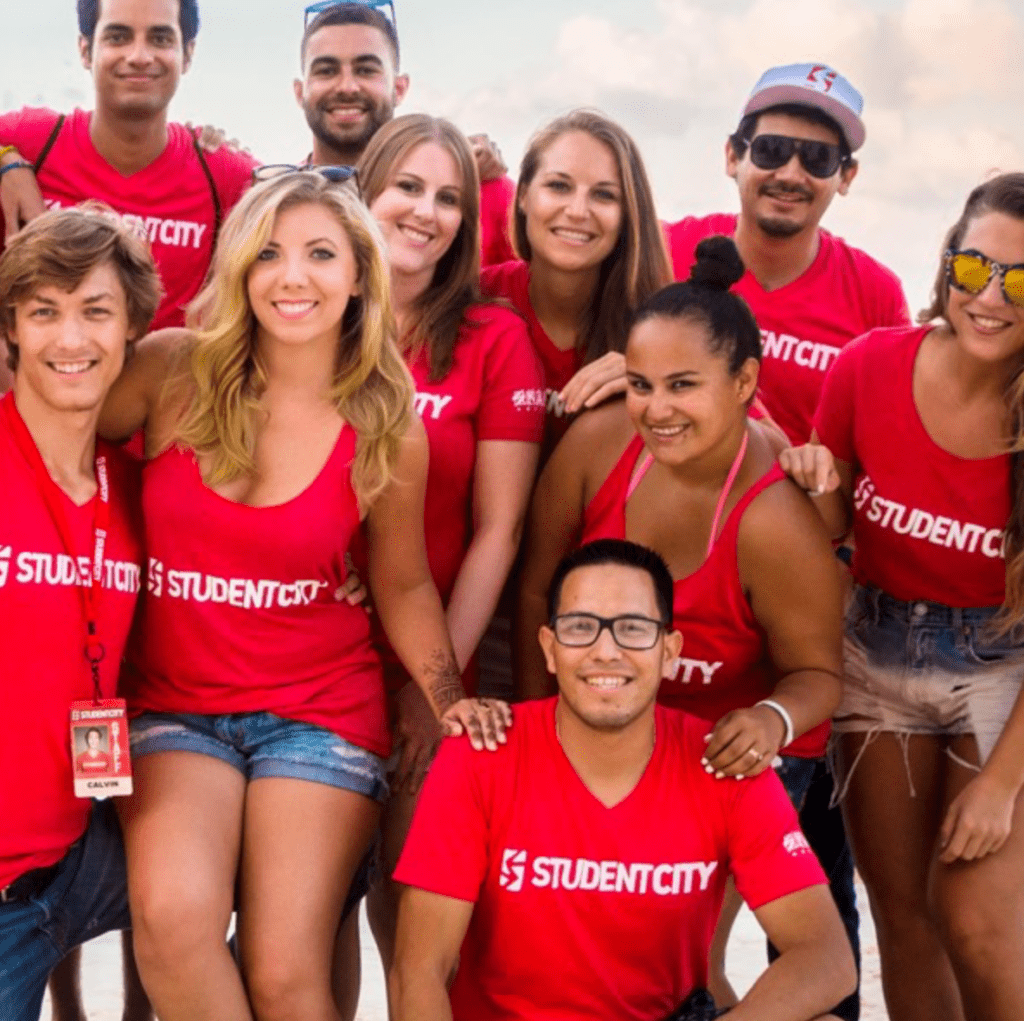 "StudentCity capitalizes on everything they promised and more. The staff was super friendly and made sure that each traveler was taken care of, ensuring safety and a great time."
"In everything from the planning months before departing to the execution on site with airport transport, planned events, and carting students to and from clubs choosing StudentCity was the best decision my group could have made! We brought 126 students down to Nassau and had the best week of our lives."
"BEST Spring Break! StudentCity is awesome. They have an amazing party pass so there's no lines to the busiest clubs and the most helpful staff available at all times to answer questions and accommodate you!"
"StudentCity makes it safe, affordable, fun, and organized for students to go on Spring Break. I used them 3x and they were the best weeks of my life. Highly recommend!"
"It was an overall great experience, and StudentCity was extremely helpful in organizing and executing this trip."
PROFESSIONAL ACCREDITATION
These independent travel industry groups and associations support and endorse StudentCity and our service record.
American Society of Travel Agents
ASTA, short for the American Society of Travel Agents, is the world's largest association of travel professionals. Our members include travel agents and the companies whose products they sell, such as tours, crusies, hotels, car rentals, etc.
International Airlines Travel Agent
IATAN (International Airlines Travel Agent Network) is a department of IATA and has been servicing all aspects of the US Travel & Tourism industry for more than 20 years.
Student & Youth Travel Association
SYTA (Student & Youth Travel Association) is a non-profit, professional trade association that promotes student & youth travel and seeks to foster integrity and professionalism among student and youth travel service providers. SYTA is "The Voice of Student and Youth Travel.®"
National Association of Campus Activities
NACA (National Association of Campus Activities) is the recognized leader in higher education for providing members with innovative practives and access to programs that suppert campus engagement.
SAFETY FIRST... BREAK SMART
We want our travelers to make responsible decisions during their travel experience. Our Break Smart program offers tips and guidelines for staying safe while traveling. Click here to learn more.