YOU HAVEN'T EXPERIENCED SPRING BREAK UNTIL YOU'VE PARTIED IN CABO SAN LUCAS
If you haven't experienced Cabo San Lucas's uninhibited Spring Break parties and after-dark nightlife scene in a city that never sleeps, then you're seriously missing out!
WHY CABO SAN LUCAS FOR SPRING BREAK 2022?
Legendary Spring Break Vacations
Cabo San Lucas is well-known for its legendary Spring Break vacations, drawing college students and famous people from across the world to party on Cabo beach.
Exclusive Parties & Events
If you like days full of pool & boat parties, concerts featuring top performers, and a lively nightlife scene that never sleeps, you'll love this Cabo San Lucas Spring Break event.
Affordable Luxury Accommodation
Budget-friendly Cabo beach resorts featuring luxury accommodation in 1 or 2 bedroom suites. The resorts feature excellent hospitality, amazing views, and plenty of bars and restaurants to choose from.
What's Included in a Cabo San Lucas Spring Break Trip With StudentCity
Top Cabo San Lucas Spring Break Hotels
It's no secret that the all-inclusive hotels in Cabo San Lucas are epic vacation spots for tourists and celebrities alike. San Lucas Spring Break has something for every crowd, offering everything from a relaxing beachside escape to epic pool parties to rowdy after-hours events.
The top Cabo San Lucas Spring Break hotels include:
See why this beautiful Mexico city is the ultimate Spring Break destination in 2022!
YOUR SAMPLE SPRING BREAK SCHEDULE!
WELCOME TO CABO SAN LUCAS
Check-in to the Resort
Opening party @ Mandala
POOL PARTY @ HEADQUARTERS FT. LIVE DJ
Day Party at Oasis Beach Club
Night Event @ Dady 'O
LIVE PERFORMANCE @ MANDALA
Day Party at Oasis Beach Club
Night Event @ The City
LIVE PERFORMANCE @ SQUID ROE
Day Party at Mandala Beachclub
Night Event @ Palazzo
FAREWELL PARTY!
Day Party at Oasis Beach Club
Night Event @ The City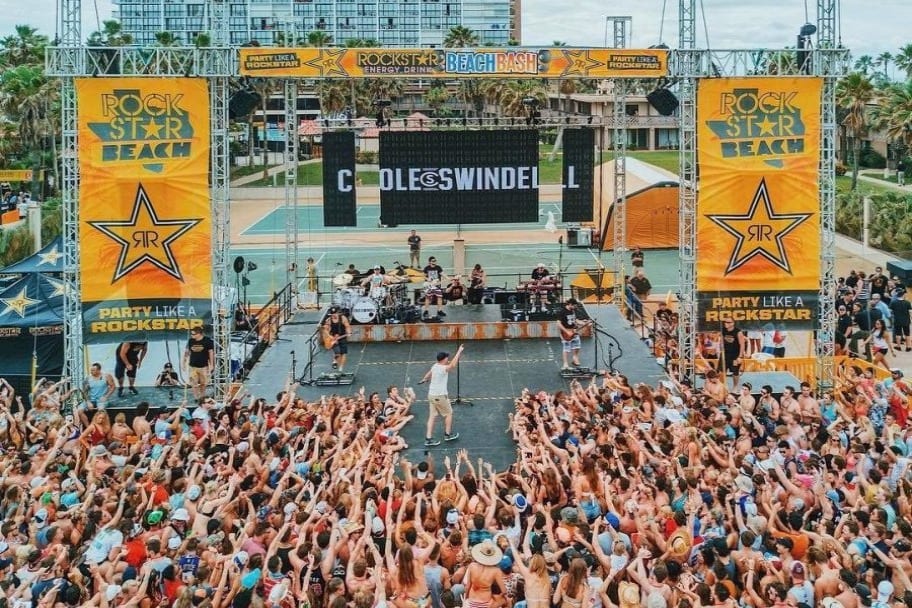 DEPARTURE
Day Party at Oasis Beach Club
Night Event @ The City
*This is a sample schedule of what your spring break itinerary may look like. Some schedules, activities and spring break weeks will have variances. 
Cabo San Lucas is located in Baja California Sur, at the southernmost tip of the Baja peninsula. San Diego, California, is the closest U.S. city, approximately 1,000 miles away. San Lucas is located only 20 miles southwest of the Los Cabos International Airport, where you will arrive.
Spring Break in Cabo San Lucas is known for being safe. Authorities and businesses in the area come together to ensure individuals have fun and stay safe during this time. StudentCity will also make sure you have adequate transportation and a team leader available 24/7 at all events.
Cabo San Lucas has much more to offer than just partying — there are plenty of relaxing activities and excursions to do as well. Some of the most popular tours and excursions include a private boat tour with snorkeling, scuba diving, glass-bottom boat tour to the arches and beaches, desert ATV tour, outdoor zip lining, sunset dinner cruise, and jet skiing.